See on
Scoop.it
-
Brand Stories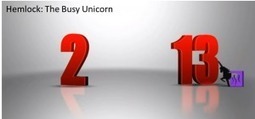 Brand Stories will be 9 months old this January.
What better way to celebrate this than by breathing life into the unicorn in our logo.
Like any well defined character in all good stories, we'll give him a name; let's call him "Hemlock Misty Colt"
And what a character he is!  Hemlock is often very naughty and is always being told off. He is misty like the blue mountains, and he casts spells of plenty and bounty.
Above all, he's always restless and loves to keep himself busy.
Watch:
Omar Kattan - New Age AdMan's insight:
Every brand has a story, does yours?
See on brandstories.net